labs
The mission of FAU CSC leads naturally to a matrix organization. FAU CSC is organized in competence labs (horizontal) and cross-sectional application labs (vertical) relying on the key competences of the CSC.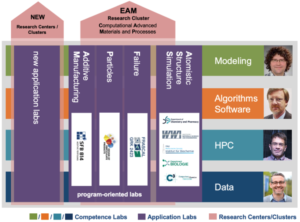 The Algorithm & Software and HPC competence labs as well as the Atomistic Structure Simulation application lab are installed in parallel to the corresponding labs in NHR@FAU. While the services and activities of the federal institution NHR@FAU will be offered nationwide, FAU CSC will focus on FAU-specific demands. The program-oriented application labs Additive Manufacturing / Particles / Failure build on the current ZISC, whose roots are in the cluster of excellence EAM. It connects collaborative research initiatives hosted and/or strongly linked to the envisaged EAM research cluster. This structural integration will serve as a blueprint for further research centers and clusters with a strong focus on scientific computing.
In each competence lab, fundamental aspects of scientific computing are represented: Modeling, Algorithm & Software, HPC and Data. Methodologies will be made available across existing boundaries of disciplines and will continuously be expanded. This chain of cross-sectional competences is recurring in many applications and gives rise to the definition of application labs. While in the described application labs a wide range of competences and coordinated research activities already exist, FAU CSC aims to integrate new disciplines leading to additional application labs in the future (e.g. artificial intelligence, quantum computing, energy, climate change). The RDM aspect of data science in the context of scientific computing will be organized hand in hand with the Competence Unit for Research Data and Information (CDI).
---
News: